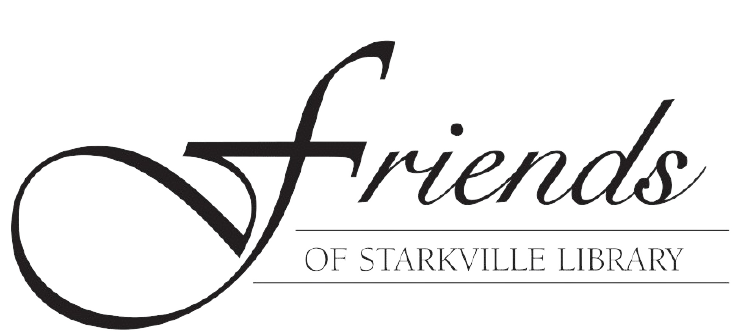 The Friends of the Starkville Public Library are a non-profit, charitable group formed to support the Starkville Public Library in their mission.
Friends of the Library Officers
Lynn Reinshmiedt, President
Connie Forde, Vice-President
Linda Morse, Secretary
Myrna Lott, Treasurer

Friends of the Library Board Members
Libba Andrews, Peggy Bates, Linda Beuhler, Pat Colwick, Nelle Elam, Gayle Hodge, Julia Hodges, Eddie Keith, Cathy Kemp, Maureen Lang, Sue Minchew, Joy Odom, Cheryl Rowe, Emily Rust, Bos Stevens, Suzy Turner, Sherrie Welch, Wayne Wilkerson

Donate and Join
The Friends of the Library are an enthusiastic volunteer organization dedicated to the promotion and support of our libraries. You can join using this membership form.

You can also join or donate to the friends of the library using our online donation and membership page.

Book Sales
The friends hold a regular book sale on the first Monday of the month. This is in addition to the "anytime room" of books for sale downstairs in the Starkville Public Library

Social Media
You can follow the Friends of the Starkville Public Library on Facebook: @FOLStarkville
Newsletter
The Friends of the Library produce a biannual digital newsletter. You can find it here along with archived newsletters.

Friends of the Library Fall 2020 Newsletter

Archive coming soon!

The Friends of the Starkville Public Library write weekly book reviews and post them to their Facebook page! You can find the archive of book reviews by clicking this link!
Kroger Community Rewards Program
The Friends of the Starkville Public Library are registered in the Kroger Community Rewards Program. To participate in the program simply visit Kroger's website. Once logged into your account, click on Community Rewards on the left hand side of the screen. In the box marked Find an Organization, you can search for Friends of the Starkville Public Library either by name or by UW747 and then click enroll. New users will need to create an account which requires a valid email address, name, and then you have the option of using an existing Kroger Rewards Card or creating a 10 digit alt-id that will be used as your Kroger Rewards number. Alternately, you can get a Kroger Rewards Card in the store at any register or customer service desk.
Contact the Starkville Public Library directly for more information on the Friends of the Library and how to get involved!