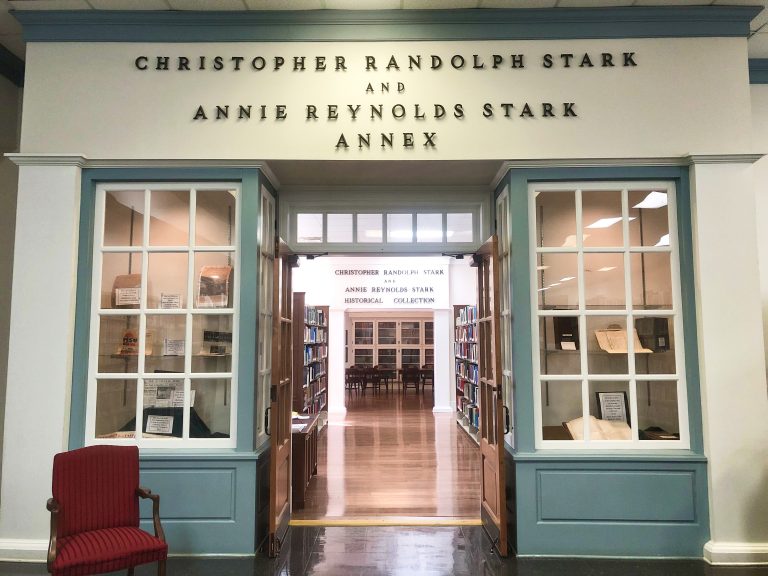 This 2300 square foot annex houses genealogy books and materials, microfilm records, historical and rare books, and primary family documents. The annex was built through a generous donation from Betsy Stark as a gift to the community and in loving memory of her parents, Christopher Randolph and Annie Reynolds Stark. Mr. Stark was a professor of mathematics at Mississippi State University for fifty-five years and was the first librarian for the University (known at that time as Mississippi A&M College), serving from 1900-1908.
Since the family has been a part of Starkville history since its early beginnings, the creation and development of the annex came from Miss. Stark's desire to give back to the community a small part of what the community has meant to this family over many years. Preserving local history, as well as family histories and libraries, fulfilled this goal for her. Her parent's library, collected over a period of 70 years has come to the library to be preserved for the public to enjoy.
The annex features three major areas for work and study. The first room houses genealogy and family history books and periodicals, Starkville telephone directories, University and High School annuals, and a collection of Mississippi authors for reference. A computer with links to genealogical web sites, as well as local holdings is an additional resource added for the area by the Oktibbeha County Historical and Genealogical Society. A microfilm reader-printer has been purchased for the room by the Friends of the Starkville Public Library and the Genealogical Society.
The second room features old and rare books as well as autographed books. The third room consists of a system of mobile shelving units and a climate control system to adequately preserve primary documents to prevent deterioration. Collections of old letters, photographs, journals, and newspapers will be cleaned, processed, and organized into collections with documentation.
Stark Annex Collections Information: is a guide to the history of the Annex as well as information on the collections in the Annex.
Longview, MS Memories by Genevieve Swartzberg
'A shaky truce' : Starkville Civil Rights Struggles, 1960-80. Through oral histories and digitized archival documents, this site highlights the civil rights story in Starkville and the voices of its participants.
Mississippi Writers and Musicians: The Library houses the collection of materials collected by the students of Starkville High School English classes taught by Nancy Jacobs and Annie Smith. The students collected lots of materials over the years of the project and it is available to use in the Genealogy Room.